Posted on Thursday, May 04, 2023 09:08 AM
Whitby, Ontario - Durham Region Health Department has started West Nile virus surveillance and control activities for the season.
West Nile virus is a mosquito-borne disease that is spread to humans through the bite of an infected mosquito. Mosquitoes become infected by feeding on the blood of birds that carry the virus. The disease is not passed from person to person or from bird to person. Since 2001, West Nile virus has been found in birds, mosquitoes, horses and humans in Ontario. In 2022,...
Posted on Wednesday, May 03, 2023 12:19 PM
Whitby, Ontario – The Regional Municipality of Durham has released the recommended final draft Regional Official Plan (ROP) and scheduled a special meeting of Durham Regional Council to consider adoption of the recommended ROP. The new ROP is the culmination of work completed through Envision Durham, the Municipal Comprehensive Review (MCR) of Durham's existing ROP. Materials to be considered at this special meeting, including the recommended final draft ROP, are available today at durham...
Posted on Tuesday, May 02, 2023 03:14 PM
Whitby, Ontario – On behalf of The Regional Municipality of Durham, Neptune Technology Group will be scheduling appointments with property owners whose water meters need replacement.
When: Residents may receive notices from now until the replacement program is completed.
Why: To upgrade existing water meters and update user accounts to allow the Region of Durham to conduct remote readings.
Note: Neptune will attempt to contact the property owner via letter and by phone regarding planned water meter...
Posted on Tuesday, May 02, 2023 11:27 AM
The Regional Municipality of Durham advises that the railway crossing leading into Courtice Water Pollution Control Plant (WPCP) on Osborne Road in Clarington will be closed for maintenance effective Sunday, May 7 at 8 p.m. until Friday May 12 at 4 p.m.
The sanitary dump station for recreational vehicles and trailers will be closed during the railway crossing closure. Alternate sanitary dump stations located at Port Darlington WPCP (93 Port Darlington Road in Clarington) and Corbett Creek WPCP...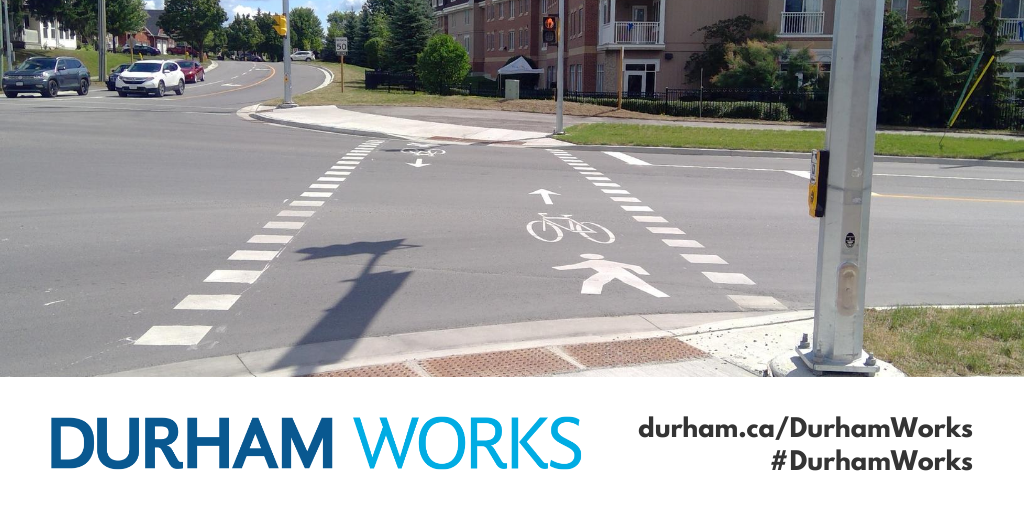 Posted on Monday, May 01, 2023 03:45 PM
As part of Durham Vision Zero, Durham Region is making bicycle crossings easier and safer for cyclists, drivers and pedestrians by installing crossrides along multi-use path routes at intersections throughout the region.
A crossride is a dedicated space at an intersection where cyclists can legally ride their bicycle through the intersection without dismounting. Crossrides are identified by unique pavement markings and may be located beside a pedestrian crosswalk or on its own. Crossrides can...